Restoration
"It was always my dream as a little girl to own an old house that I could fix up..."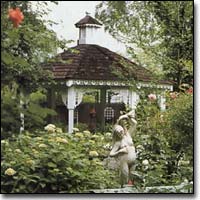 With a neighbor who joined this project as handyman, Marion rolled up her sleeves and began the enormous task of restoring the structure to its original condition. One of the tasks involved ripping up the linoleum and formica from the floors. It revealed the original pine which, unfortunately, was covered with layers of black paint which had to be sanded out. "It doesn't matter that the floor creaks sometimes," Marion says. "Its's part of history!"
A great deal of work had to be done on the grounds. There is now a front garden, a side garden, a back garden and a 'secret garden' behind the cemetery which Marion explains is "one you come across by surprise. It has an aura of its own," she adds. There is also a gazebo and a 'gingerbread house.'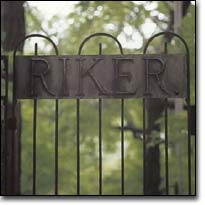 When Marion began the work, she noticed the letter "K" was missing from the name on the cemetery gate. She didn't know how she'd ever be able to duplicate it. In 1982, a write-up of the house appeared in the Real Estate section of The New York Times. It was titled, "Paradise Acre" which was the name by which Michael had always called it. Shortly thereafter, a package arrived at the house, indicating it was from a "Riker". As if by magic, inside was the missing letter 'K'! There was also a note which read:
"I visited the cemetery a few years ago when the house was unoccupied. I found the letter 'K' lying in a pile of leaves and felt the house would never come back to life. I took it as part of my history. Then, I read the story and I see what you and your husband are doing. I feel I should return the letter 'K'."
Now that much of the restoration has been completed, Marion has been able to return to photography. "I've found my passion and dreams do come true, because I'm living mine!"
Marion's Experience with the House
Join Marion's Mailing List